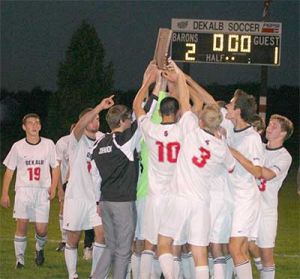 The DeKalb boys soccer team raises the sectional championship trophy after defeating Leo 2-1 
WATERLOO — Winning a sectional championship is never easy, nor should it be.
The DeKalb boys soccer team found itself in an unusual position heading into the second half of the Class 2a Sectional 9 title match against Leo Wednesday night, trailing by one goal. But two goals in the first five minutes of the half - one each by brothers Brennan and Landon Cochran - propelled the 16th-ranked Barons to a 2-1 victory and a sectional title.
It's the program's second consecutive sectional crown, and 11th in program history.
"Without a doubt, you want to win a sectional title and we want to win it at home," said DeKalb coach Jed Freels, who has won 10 of those 11 sectionals. "The boys have worked extremely hard. We wanted a chance to defend our regional championship and head to semistate, and that's where we're headed now. That's our goal."
The Barons (15-3) play Fort Wayne North in the regional semifinal one week from today. In last year's regional, the Barons defeated Homestead 2-0 in the semifinal and Bishop Dwenger 2-1 in the final.
After 35 minutes of play, where both teams only had one or two great chances to score, Leo grabbed the 1-0 lead three minutes before halftime. Zach Ferran's free kick from midfield made it all the way to the box, and after one bounce senior Dennis Moric headed in the ball for a 1-0 Lion advantage.
Leo (12-3-2) nearly took a 2-0 lead just a minute later on a shot by Ty Sproat, but it went just wide of the frame.
Following a stern halftime discussion, DeKalb came out on the attack and tied the match four minutes into the second half. Landon Cochran and a Leo player arrived at the ball at the same time, and the ball took a fortunate bounce off Landon Cochran's leg right to Brennan Cochran, who kicked it past the goalkeeper to level the match 1-1.
It didn't stay that way for long. Just one minute later, a pass from Brennan Cochran found Landon Cochran, who calmly kicked it past Nick Bond for a 2-1 lead and the match-winner.
"I saw my brother play it in, I saw it bounce, I turned my body into the guy, took a touch and put it into the net," Landon Cochran said.
The two goals were momentum shifters as it appeared the visiting Lions were in control. Freels said the Barons played too much "kick ball" in the first half and didn't keep possession like they should have.
"Intensity in a sectional championship game is what it takes to win," Freels said. "They had it in the first half and we did not. Fortunately, we got a goal in and the intensity starts to shift. And then we got another one and we're attacking so they're defending, defending, defending."
With DeKalb out in front, Leo tried to go on the attack in the final 20 minutes and were aided by a number of fouls committed by the Barons. Leo's best chance to equalize came in the 62nd minute when a free kick by Ryan Fawcett went into the box and Sproat's sliding kick pushed the ball just wide.
"It was huge for us," Landon Cochran said. "We knew they had momentum going into halftime. We had to come out and get two goals early and finish the game off like we did. They were outworking us (in the first half). They were ready before us to start the game and we knew they were going to be a big test for us."
Fawcett received the match's only yellow card, coming in the 77th minute, for arguing with the official.
DeKalb goalkeeper Ashtin Egly made 13 saves on the night and turned away the Lions in the final 20 minutes. It was only Egly's second start of the season, after normal starter Chase Secrist broke his hand last week against Angola. Besides the final 70 minutes of that match and the two sectional games, Egly hadn't play goalkeeper all season. Freels said he has risen to the challenge.
"We never hesitated," Freels said. "We called his name, he got his stuff out of the bag and he's been in goal ever since. And played phenomenally. He'll do whatever it takes to win and it's also a statement to what he wants to do."
Bond made 15 saves for Leo.
DeKalb handed Leo two of its three losses this season, the other a 1-0 decision back on Sept. 18.
Article from The Star on Thursday, October 10, 2013 -- Written by Phil Friend pfriend@kpcmedia.com