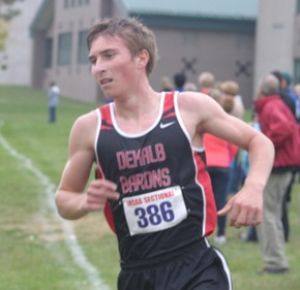 DeKalb junior Mark Beckmann won the sectional title in Tuesday's West Noble Sectional, finishing with a time of 16 minutes, 19.42 seconds.
LIGONIER — Less than two weeks after winning the Northeast Hoosier Conference title, DeKalb junior Mark Beckmann added postseason hardware to his ever-expanding trophy case.
Beckmann finished in first place in Tuesday's West Noble Sectional, crossing the finish line with a time of 16 minutes, 19.42 seconds — 19 seconds better than runner-up Brandon Arnold of West Noble. He's the first Baron runner to win an individual sectional title since Nathan Morrow in 2007, and it also comes on the heels of Beckmann's own runner-up finish last year.
"It means a lot. It's good, it's a lot of momentum," Beckmann said. "It'll be fun to go into Saturday now that we've got some more confidence. Now we've just got to build on that."
West Noble won the team title for the second consecutive year with 69 points, 15 points ahead of second place DeKalb (84). Arnold was the only Charger in the top 10, but they had their other four runners place between 12th and 23rd to secure first place in a race that wasn't top-heavy with one squad.
"It's one of our goals all year long to come out and win sectional," said WN coach Rusty Emmert. "It's more about getting the job done (Tuesday night). We've got regional to focus on. We didn't want to have our best races but we wanted to have a good, quality race.
"What we've done up to this point should carry us through quite a ways."
Beckmann and Arnold ran shoulder-to-shoulder early, but Beckmann pulled away shortly after crossing the one-mile mark and put separation between them fairly quickly. It's the fifth time this season they've raced against each other, and Beckmann has won four times.
"I hit the mile mark at the split I wanted to try to get it at, and my coaches said 'You got him, you got him,' and so I just kept trying to pull away the best I could," Beckmann said. "Arnold's very good. It's always fun to race him."
DeKalb head coach Rowland Perez describes Beckmann as "a textbook kid."
"He does what he needs to do and makes it look easy," Perez said. "Just chalk up another victory for him, which is a good confidence booster. Just come back Saturday and do the same thing."
Both Beckmann and Arnold are expected to be running up front with Concordia's Zach Panning, the regional favorite.
"Just hang to him the best we can," Beckmann said. "Just keep working hard and that's about it."
Said Perez, "I'd like to think Mark can run with him. Panning's never really had a challenge and this course favors Mark. The plan is to stay close to him and see what happens."
Also advancing to Saturday's regional — held at West Noble — are Lakeland (100), East Noble (109) and Prairie Heights (110), which finished third, fourth and fifth, respectively.
Rounding out the individual top 10 were East Noble sophomore Joseph Vandiver (16:45.65), Lakeland senior Joseph Trost (17:02.11), Fremont senior Alex Beams (17:03.69), Lakeland senior Eric Herber (17:13.87), Heights sophomore Josh Perkins (17:15.12), Heights sophomore Mitch Perkins (17:15.16), Fremont senior David Schmucker (17:15.29) and Angola senior Isaiah Mortorff (17:19.86).
The Indiana High School Athletic Association changed the rules for postseason advancement this season. Instead of having to place in the top-15 individuall — regardless of team standings — to qualify for the next round, the top 10 runners on non-advancing teams move on to the regional.
Advancing as individuals are Beams, Schmucker, Mortorff, Angola junior Nathaniel Roe (16th, 17:32.72), Churubusco freshman Jacob Eyer (20th, 17:42.96), Angola freshman Zachary Orn (24th, 17:56.46), Westview junior Daniel Flores (25th, 18:01.32), Westview junior Spencer Shank (28th, 18:07.79), Westview junior Derek Miller (30th, 18:08.29) and Churubusco junior Blake Gross (31st, 18:12.60).
Rounding out the team scores, Angola (133) was sixth, Westview seventh (168), Fremont eighth (170), Churubusco ninth (181) and Central Noble 10th (279).
Article from The Star on Wednesday, October 16, 2013 -- Written by Phil Friend
                              Congratulations Mark Beckmann!
                                          Way to go Barons!