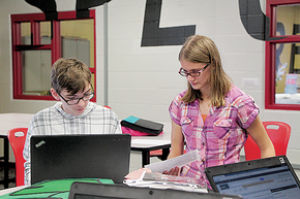 DeKalb New Tech students work on details of a 5K zombie walk and run they are planning for Oct. 11 at 5:30 p.m. in downtown Auburn. 
The consumer communications class is working with the Downtown Auburn Business Association and the DeKalb Chamber Partnership and has split into four committees to work on details for the event.
Proceeds from the event will go to DeKalb Chamber Educational Partnerships, which benefit DeKalb Central, DeKalb Eastern, and Garrett-Keyser-Butler schools.
The entry fee is $10 per person or $25 for a family of three or more.
Along with the race, other activities including horse drawn rides, a "zombified" booth, "zombify your Barbie" booth, a special effects booth, creepy car cruise and archery tag will take place from 5-10 p.m.
Article from The Star on 
Monday, September 23, 2013