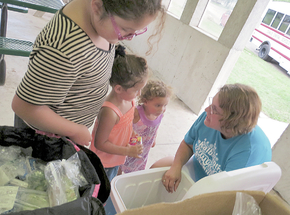 For a child, summer brings freedom from the rigors of the school year, endless hours of splashing at the community pool and miles of peddling a bicycle.
For some families, though, summer also brings about fear of how they'll pull together a meal for a child who generally is served at school.
Enter summer food programs.
The Summer Food Service Program for Children was launched in Indiana in 1975, created to serve children in the summer months when school meals are not traditionally available. More recently, a push was made to reignite the program to reach more children in need of balanced and nutritious meals.
Today, schools with 50 percent or more of their students eligible for free or reduced-price meals qualify for the summer food service program. Children ages 1-18 can eat lunches at no charge through the program. In the counties of northeast Indiana, programs at local school districts serve hundreds of children each weekday.
In some cases, without the program, children would not have a meal, officials say.
"The majority of the children that come to these programs are children that would have gotten a free or reduced meal at school, so when school's out, families struggle," said DeKalb Central schools food service Director Raina Sisson. Before joining the district, Sisson worked at the Indiana Department of Education with the summer food service program.
"There's a lot of food insecurity," Sisson said, "and those families struggle to know how they're going to feed their child, especially if their child has been receiving breakfast at school and lunch at school at either no charge or at a reduced charge. These kids are the ones who are at risk, the ones falling through the cracks, the ones who are having trouble getting that healthy food."
DeKalb Central, in its fifth year with the program, served just under 500 meals a day in June across its 10 sites, Sisson said. She said parents will approach her food-service workers at sites and confess that without the program, meals may not have been possible for their children.
Patricia St. Clair, food service director at East Noble schools, which served upward of 85 meals a day at its two sites, echoed Sisson's sentiments. As director, St. Clair said she has worked in the summer to serve the same healthy and balanced meals she serves during the school year, because the community has children who are in need.
"It's very crucial," said St. Clair, who said among the swarms of youth who come to the sites for meals are daycare providers with their own children. "People want to say that we live in northeast Indiana and we don't have a problem here with hunger, but I'm here to tell you that we have hungry children in this community.
"It truly is a great service that we do for the children in our communities."
At the Metropolitan School District of Steuben County's single summer food program site, food service director Stephanie Haynes-Clifford said her team has served around 100 meals a day. She, too, reported daycare providers and day camps bringing children to the site for meals along with individual students.
The program helps those programs or families "stretch their dollar at home," Haynes-Clifford said.
"The kids are appreciative," said Haynes-Clifford of the program. "There are faces that I see coming through our lines that have come from the time we started the program, and I think that's wonderful. They'll have a full meal when they're there."
Tammy Fennell, food service director at Lakeland schools, said turnout for Lakeland's program has seen a significant dropoff in turnout over the years. Fennell reported 400 fewer children showed up for meals this summer compared to last summer, and the total is down to 160 meals per day across four sites the district serves.
Fennell speculated the low turnout could be because LaGrange County's unemployment rate has fallen as gas prices have climbed, meaning more parents are working — and those who aren't don't want to spend on fuel to get free meals.
"Every year we serve less and less and less," said Fennell. "I have rural locations that are in areas where kids can walk, but some parents would like to drive them if they could, and with gas prices, it doesn't make it worthwhile. But, I think if there was a need, they would find a way to get there to the parks.
"I think the biggest reason they come is to see their friends and play around before or after they eat," she said. "I think they would have something at home — this is part of breaking up their day at home, they eat and see their friends."
Article from The Star on Sunday, July 28, 2013 - Written by Aaron Organ, aorgan@kpcmedia.com