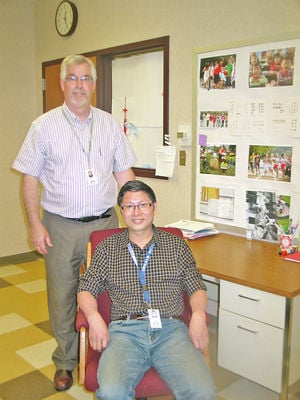 Reprinted from the Star...  
Chen Ronghua, seated, an associate principal at Taizhou Baiyun Middle School in China, has shared his culture and co-taught in classrooms at McKenney-Harrison Elementary School and DeKalb Middle School. Chen arrived in DeKalb County on Feb. 22 as an exchange teacher from China. He will leave the United States May 31. Chen is pictured with middle school principal Tom Sanborn.
WATERLOO — Chen Ronghua has shared simple Chines words and phrases, demonstrated how to use chopsticks and talked about the Chinese lifestyle with students at McKenney-Harrison Elementary School in Auburn.
"The kids ask a lot of questions," Chen said.
He also has observed and co-taught gym and social studies classes at DeKalb Middle School and has found students to be critical thinkers, he said.
"That's why American students are so creative, imaginative and innovative," Chen added.
Chen arrived in DeKalb County on Feb. 22 as the middle school's exchange teacher from China. He will leave the United States May 31 and head back to his classroom in Taizhou Baiyun Middle School. His visit was a continuation of the relationship between the middle school and its sister school in China. He is the second Chinese exchange teacher hosted by the school.
Chen said he has noticed many differences between school and life in China and the United States.
At Chen's school, where he is an associate principal, classes are much larger than at DeKalb Middle School, with as many as 45 to 50 students, he said. The classroom atmosphere is more relaxed in the United States, with students free to ask questions, he noted.
Chen said Chinese students are more disciplined, both in and out of the classroom.
Chen also noted students at DeKalb Middle School have more opportunities to participate in extracurricular activities than students in China. Chinese students receive more homework than students in the U.S., he added.
In China, teachers "loop" and follow students through their years in school, Chen said. Only a few schools in China provide transportation for their students, he said. Many students use public transportation, ride their bicycles or are driven to school by a parent. About one-third of students in his school live at the school during the week and go home on weekends, he added.
During his stay, Chen has been able to experience and enjoy many activities, thanks to his hosts, teacher Rachel Campbell of Fort Wayne and retired teacher Greg Vick of Auburn.
"My host families helped me a lot. They were so friendly and kind to me and helped me get to know America, American lifestyles and history," Chen said.
Chen has visited Washington, D.C., Gettysburg and Indianapolis, toured many museums and memorials, and taken in local attractions and events such as Wild Winds Buffalo Preserve in Fremont, Pokagon State Park, and Discovering Historic Auburn.
DeKalb Middle School principal Tom Sanborn said the teacher exchange program between sister schools has been a success. This summer, a group of teachers, students and parents will travel to China and part of their trip will include a visit at Chen's school. The group also will visit the cities of Shanghai, Hangzhou, Xian, and Beijing and see sites such as the Great Wall, the Forbidden City and the Terra-Cotta Warriors.
"I learned a lot and met a lot of people. I've made a lot of friends," Chen said of his experience in the United States. "When I'm back in China, I will miss them a lot. They made me know more about America and I'm here to help them know more about China."